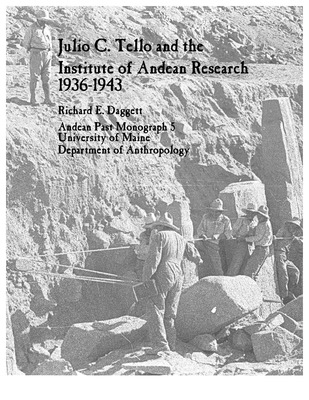 Julio C. Tello and the Institute of Andean Research: 1936-1943   by Richard E. Daggett, August 21, 2021.
Andean Past Monograph 5, published by the Department of Anthropology, University of Maine, 399 pages.
In this monograph, Richard E. Daggett continues his discussion of the influence of politics upon the work of Peru's first professional archaeologist, Julio C. Tello. He began his analysis of this topic in his previous Andean Past monograph entitled Julio C. Tello, Politics, and Peruvian Archaeology: 1930–1936. The focus of this second work is an in-depth discussion of the nature and extent of Tello's connection with the Institute of Andean Research, from its creation in 1936. In addition to numerous articles published in the Peruvian press, Daggett makes extensive use of correspondence housed in archives both in Peru and in the United States.