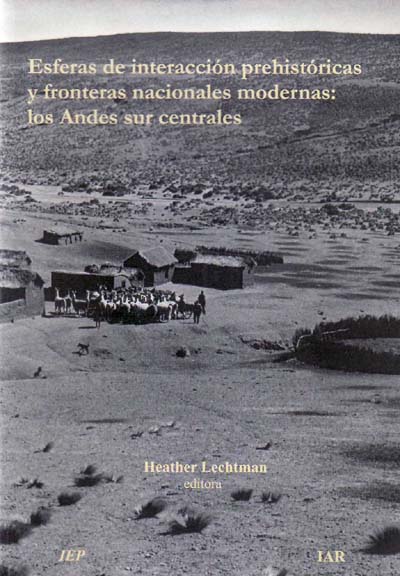 Esferas de Interacción Prehistóricas y Fronteras Nacionales Modernas: Los Andes Sur Centrales, 2006 by Lechtman, Heather (editor).
Published by Instituto de Estudios Peruanos (Lima) and Institute of Andean Research (New York), 2006. 630 pp. ISBN: 9972-51-144-8.
Purchase from publisher: $32.00 (shipping included). Order code IE010.
In 2004 Heather Lechtman organized a conference with the participation of scholars from Argentina, Bolivia, Chile and the U.S.A. to discuss the character of interaction spheres in the south-central Andes before and during the Middle Horizon. This volume presents 19 papers by Axel Nielsen, Carolina Aguero, Dante Angelo, Claudia Rivera, Lautaro Nuñez, José Luis Martínez, Agustín Llagostera, Myriam Tarragó, Carlos Lémuz A., Richard Burger, Mauricio Uribe, Carlos Aldunate, Ana María Lorandi, among others. In Spanish.